When I first started doing hand embroidery and thought about how to display my work I had absolutely no idea how to finish the back of the embroidery hoop! I tried to research it online but couldn't find any solutions I liked. It took a bit of trial and error but I finally worked out a good method for finishing off a framed piece of embroidery art so it can be mounted on the wall. This blog post is going to explain my process so you can mount your own work for display.
So, for this you will need:
Your complete piece of embroidery (I'm using a red version of my sparkle hoop)

The appropriate sized embroidery hoop (5 inch diameter for this one)

good quality sewing thread (I use Guttermann)
The first stage is to cut out your felt. I always use white to compliment the cream fabric that I embroider on but you could use any colour you like; just remember to match your thread to the colour of the felt. To get the felt circle the correct size use the inner section of the embroidery hoop and draw around the outer edge and cut out.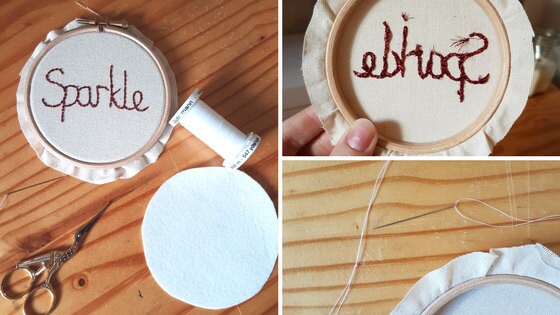 Next, mount your piece of embroidery in the appropriate sized hoop, making sure you get the embroidery in the centre (this can take a bit of fiddling around!). Trim the fabric at the back of the hoop, leaving at least half an inch of fabric. For larger hoops I leave a bit more fabric as it makes it a bit easier.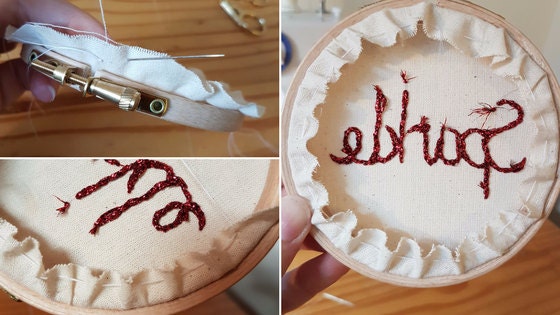 Once trimmed you need to sew around the edge of the fabric in running stitch (its quite hard to see on the pictures! I should of used a darker thread to make it more obvious). You will need a length of thread that is at least 1.5 times the diameter of your hoop. I always double up my thread just to make it extra secure and leave a good length of thread as a tail when your tie a knot in the end of it. Sew a running stitch about 1cm from the edge of the fabric all the way around. When you get back to where you started pull the thread to pull the fabric taut and tie the ends together to secure it.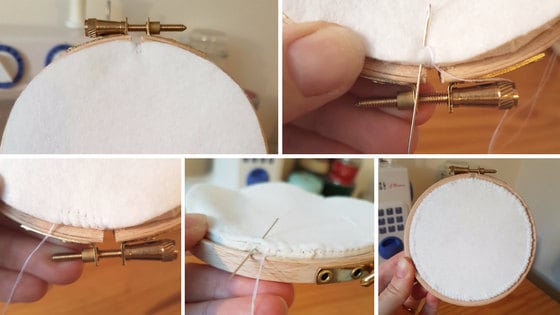 The next stage is to attach the felt, I always secure it at 4 points before stitching all the way around as I have found it can shift, particularly on larger hoops! Secure at 4 points with a few stitches then use whip stitch to sew around the edge, making sure to go through the felt and the fabric with each stitch. When you are back to where you started do a few extra stitches to make sure its not going to come loose and trim the thread as close to the fabric base as possible.
And there you have it! One finished hoop ready to go on your wall. I feed a piece of ribbon through the screw at the top of the hoop to hang on the wall. Alternatively you could prop your embroidery hoop art on a shelf, or use a mini easel.

If you have any questions at all then please get in touch :)